War time pack of metal Boot protectors.
Anti-Gas Ointment Jug dated October 1943. Given the size of the stoneware jug ,10 inches high and 6 inches across the bottom, I am thinking it was probably used at a wardens post or medical center probably both.
Long-Handled Scoop and Hoe used for dealing with Incendiary Bombs, the two can be fixed together using a bolt on the handle end of the Scoop and a slot on either end of the Hoe, putting them together sand is scooped out of a Redhill container shown in the pictures and put onto the Incendiary Bomb, when it dies down the Scoop and Hoe are then taken apart and used to scoop up the Bomb and sand as shown in the picture then safely removed.
National Fire Service canvas buckets dated 1941, marked for region 4 which I believe is the Leeds Dewsbury area, last seeing service on the Military Green Goddess Fire Engines.
Anderson Shelter half inch spanner. In 1938 Sir John Anderson was put in charge of Air Raid Precautions (ARP). He commissioned engineer William Patterson, to design a small and cheap shelter that could be erected in people's gardens. they would became known as Anderson shelters. Made from six curved corrugated metal sheets bolted together at the top, with steel plates at either end, and measuring 6ft 6in by 4ft 6in the shelter could accommodate six people. These shelters were half buried in the ground with earth heaped on top. Anderson shelters were given free to people who could not afford to buy them. Men who earned more than £5 a week could buy one for £7.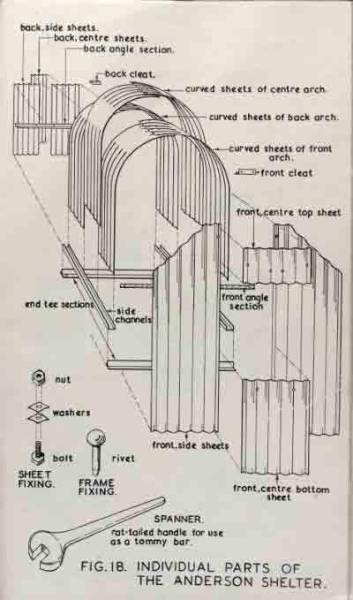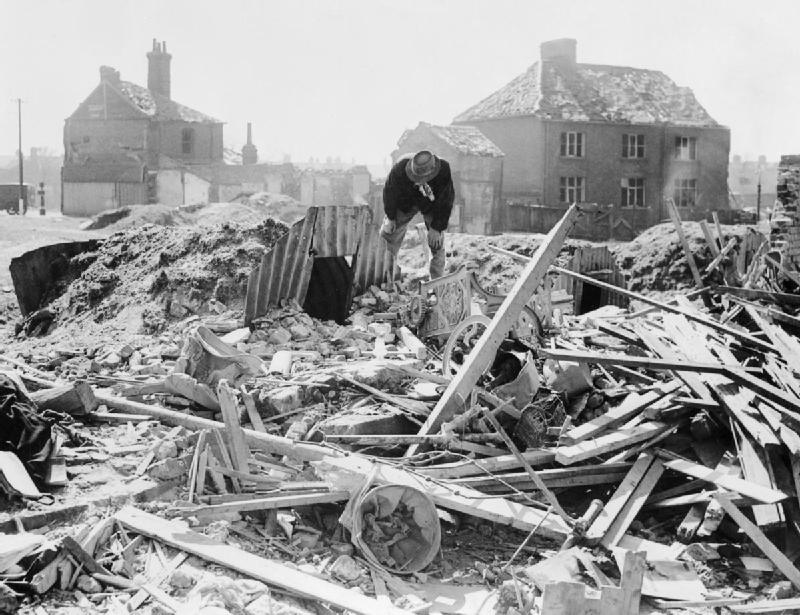 Headlight Masks undated but still with their original glass covers at the back.
Headlight Masks were officially introduced for blackouts in late September 1939. The government designed mask was made compulsory on 22nd January 1940 one per car To be fitted on either side, The light without the mask only had to have the bulb removed. A second mask could be fitted from February 1940, Both lamps lit was allowed from September 1941. From March 1940, different designs were allowed, as long as they matched the government Specifications.
ARP sealing tap for sealing windows doors, presumably to protect from gas. The tin is four inches high by two and a half inches across with original tape inside.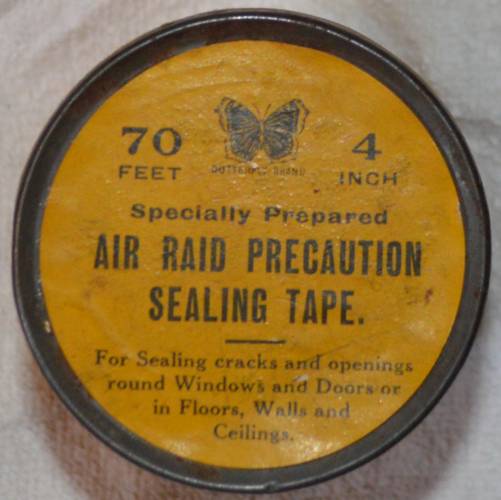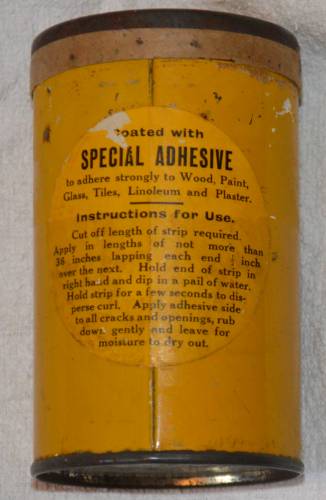 St Johns Ambulance Brigade water bottle and integral carrier, its a undated MK.V1 bottle with black felt and black leather loops sawn directly on to the felt for the carrying straps to go through, the metal used on the cork stopper is brass and so is the chain and loop attaching it to the carrying straps, I don't know when it was made but with it being a MK.V1 bottle it could be anywhere between 1903 and 1939 although I have seen one dated 1914 . The second St Johns Ambulance Brigade water bottle shown is made of aluminum its shorter and wider than the previous one it has the same integral carrier as the previous bottle except for the metal used on the cork stopper and chain and there is not a loop on the bottom, its undated and the only information I can find so far states that they were used pre 1939. The third St Johns Ambulance Brigade water bottle shown is a standard MK.V11 bottle which was introduced in 1939 but in a M.K.11 general service carrier which was introduced In 1905 then In 1924 The M.K.11 name was changed to Carrier water bottle other services this bottle was certainly used throughout WW11 but I have no information as to when it went out of use.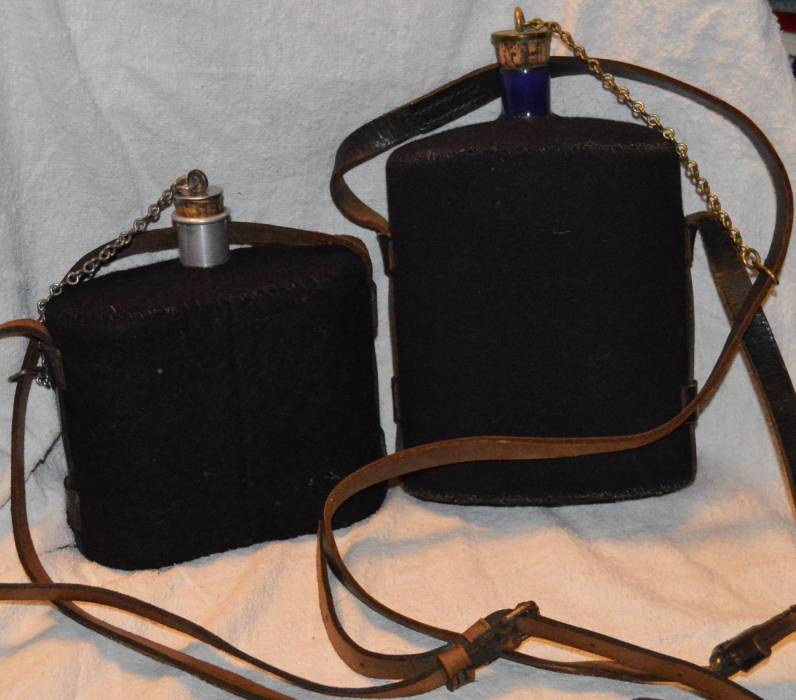 ARP water bottle and carrier, the bottle is made out off aluminium and undated, the carrier is similar to the carrier water bottle other services but made out of thinner more flimsy webbing, the shoulder sling is one and a half inches with a sliding buckle and the pair of horizontal bands are 3 quarter inch's wide. The bottle was used as is no felt cover.
Fireman's Chillington Arpaxe plus belt and holder the axe is stamped for the A.F.S.
A.R.P rattle dated 1939 made by W,Clements&son. Used by ARP Wardens to worn people of a gas attack then when the danger had past they would use a bell to sound the all claer. From the paint work it looks like it has seen a few Nottingham Forest football matches since the war.
ARP warden's 'all clear' hand bell dated 1939.
Stirrup pump dated 1941 with royal cipher. Used by fire guards in teams of three to combat incendiary bombs one fire guard would carrying out the pumping, the second directing the hose and the third keeping the bucket filled with water.
Plastic Ministry of food bowls and spoons they are undated but have a kings crown above the Ministry of food stamps so they were made pre 1953. I have only come across one style of bowl so far but several styles of spoon including white ones so I assume there are white bowls as well. I have been told they are mainly post WWII and were intended for feeding a very basic diet during the cold war after a Nuclear Attack or Emergency. They were stored at regional distribution points along with the basic rations.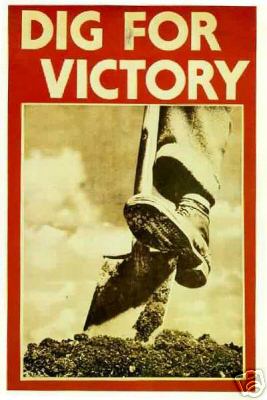 BACK TO HOMEFRONT EQUIPMENT.