RAF Rescue Box Kite M-357-A, I believe made by the Bendix Aviation Co.? Used to raise antenna wire for better radio reception by RAF airmen who had ditched in the sea. part of the inflatable life raft equipment.
British WW11 Lifebelt dated 1945. In unissued condition, the second picture below shows them being used on D-day.
War Department Petrol can dated 1944. Made by Valor.
Military whistle. Dated 1951 Korean war period.
Web Equipment, R.A.F., Pattern, 1925. Pattern 1925 Pouch, ammunition pistol dated 1942. I am putting this in the miscellaneous section As this is the only piece of pattern 25 that I have, when I get more pieces I will give it its own page.
Thermos Flask dated 1951, in unused condition.
Ammunition bandolier for A Boys Anti-tank Rifle dated 1942.
Military scales dated 1943.
Ground sheet made of water-proofed canvas in Khaki colour, 3 feet 4 inches by 6 feet long belonging to a SGT Fullwood of Sheffield, its undated but has metal grommets around the edge which would make it early WW11 as the later ones just had holes punched in them.
SRD jug. The lettering SRD printed on the shoulder of the bottle stands for Supply Reserve Depot, which was the military base supply depot in the UK from which all such bottles were issued in WW1 in WW11 I believe there were 5 or 6 depots, very often you see them described as rum jars which is a misleading title as these jars were used to store many other liquids besides rum including acids, oils and even ink, Soldiers often created alternative meanings such as "Service Rum Diluted," "Sergeants Rarely Deliver," and "Soon Runs Dry." there seems to be an endles amount of different styles makers and fonts plus different gallon sizes.
Air ministry oil can dated 1944 made of brass and 21 inches long. I was told it was for oiling the flaps on hurricanes and spitfires but I think its probably just a general oiler for the difficult places to get at on aircraft unless someone can tell me different.
Water bottle large commonly known as the Medic's water bottle dated 1941 mad by Harrison Brothers & Howson Sheffield. Unfortunately its missing its removable felt cover and straps plus the cork stopper has been replaced with a wooden one and it has a few dings but you don't see them very often so I am pleased with it. Its designed to hold double the capacity of the MK.V1 and MK.V11 bottles so I have stood a WW11 MK.V11 bottle at the side of it for size comparison and also a picture showing one in its felt cover.
US Navy M1926 life belt dated 1943. It was standard issue for all assault troops, both Army and Marine in most of the amphibious landings of WWII including Soldiers participating in Operation Overlord the D Day landings. The belt could be inflated using two CO2 cartridges, or manually via two valves (the belt has two internal inflatable tubes). Thanks to Keegan Hassan for identifying this life belt for me.
kit bag dated 1942 with MOD arrow and named to 2nD lieutenant J.R.N. Thomson X11 Royal lancers, amazingly it still has a transport tag to Malaya attached to it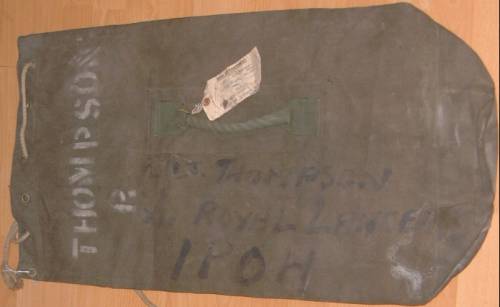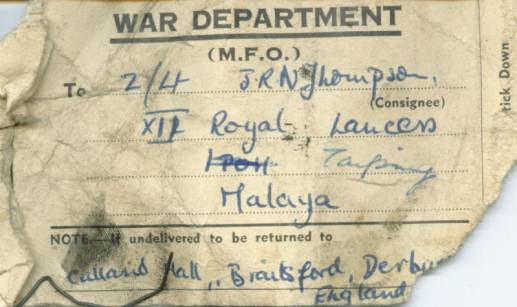 Royal Navy issue money belt dated 1942 given to me by Wilfred Wilson WW11 Malta veteran.

Water filtration bag. It was made by Waring & gillow 1945 CAT. No. AF.0005. It has full instructions sown to it. Which are. 1) Soak the bag Thoroughly by squeezing under water . 2) fill the bag to the top with water to be filtered. 3) hang up and allow water to run to waste down to the level of the black line. 4) place water bottle under bag and fill this should take about 5 minutes. 5) afterwards wash any mud of the bag and replace in pocket. 6) sterilize water in water bottle using tablets from sterilizing outfit. N.B if filling is slow repeat soaking and squeezing under water. Thanks to Mike on the military collectors network for the following information. Known as a Milbank Filtration Bags as used pre war by explorers with iodine drops, and was first issued as survival kit for RAF aircrew. Were also issued to the Army in the Far East.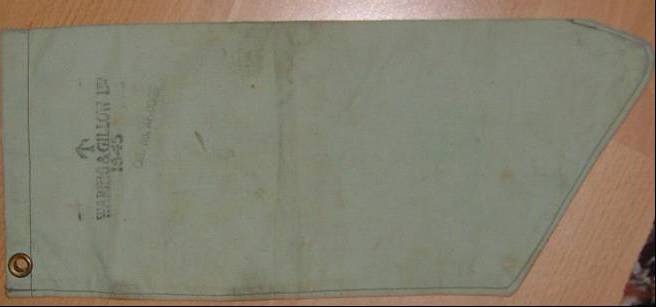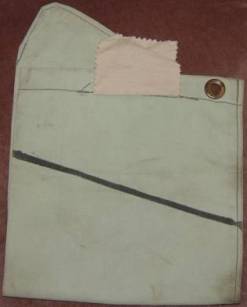 This Sterilization outfit is undated but I have seen pictures of WW11 ones that look identical except for the bottle tops which had corks in them so I am guessing post WW11 but if anybody can date this I would be interested to hear from them.
Thanks to Anthony Shaw for the following information. I have in my possession a Sterilizing Outfit exactly the same as yours that my father brought back from Cyprus whilst doing his National Service in 1956. Mine even has the original stores cardboard box. It is definitely post WW2.
Number 1 electric lamp with blackout hood and rotating disc on the front with red or clear lens. Its undated but I have seen pictures of these described as WW11.
Lantern electric.traffic No2. Its undated but I have also seen this one described as WW11.
Electric Lamp No 4. Used during WW11 and based on a German design, It has red and blue coloured lenses that are slid into place by sliding one of the two levers on the lower body. A leather strap on the back for attaching to a belt plus the strap has what looks like a button hole which I am assuming is used to attach to the uniform?
| | |
| --- | --- |
| | |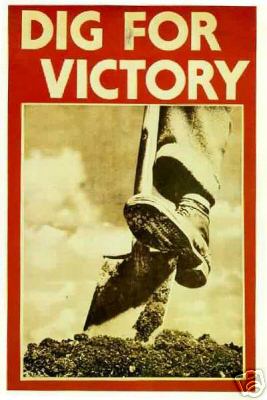 BACK TO MILITARY EQUIPMENT