Martini-Henry rifle Mk. 11 dated 1878 made by Enfield, the Mk. 11 was the same rifle that was used in the Zulu war of 1879.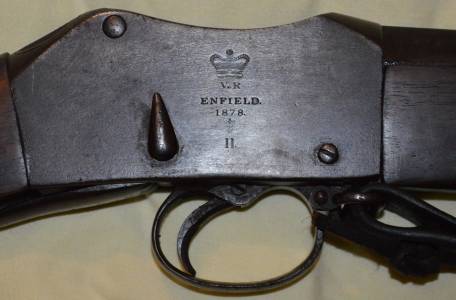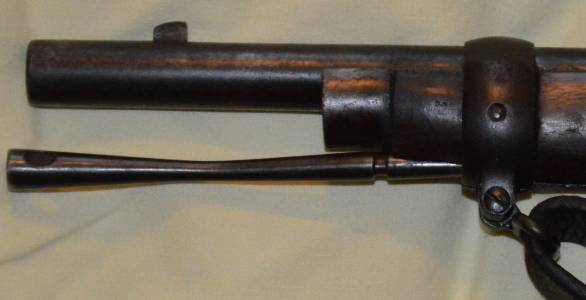 303 Pattern 1914 Rifle,(or P14) designed by Enfield it was a British service rifle of WW1. A bolt action weapon with an integral 5-round magazine, due to a shortage of spare industrial capacity the British government turned to the United States to make the P14. It served as a sniper rifle in WW1 and WW11 and used by the Home Guard until being declared obsolete in 1947. When the U.S. Entered WW1 in 1917, the P14 was modified by the U.S. to take the US 30-06 cartridge and became the Model 1917. Sometimes called the M1917 Enfield, this particular rifle is a FAT-BOY" P14 made by Eddystone (ERA) The Fatboy stock has no finger-grooves, which is correct for an ERA manufactured P14. The Fatboy stock does not have finger grooves because of the wider forend just forward of the action, they have a diagonal relief on the Left side of the fore-end because the wider section obstructed the long range volley sights. Because of the sturdier Fore-end they were preferred over the Winchester & Renighton made P14s for use with Rifle Grenades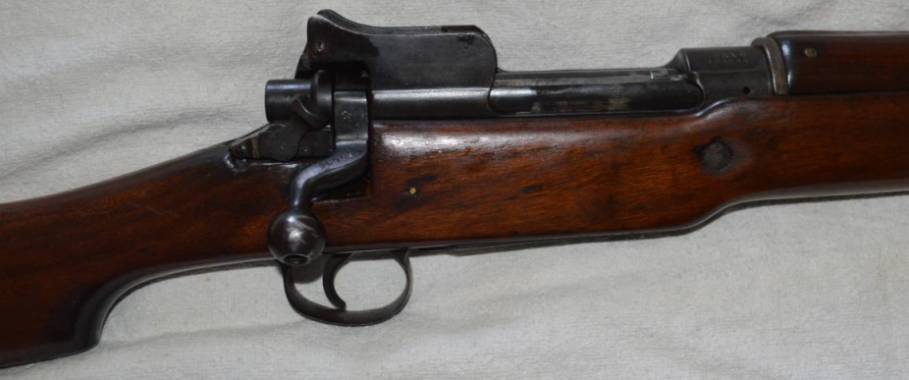 I believe this to be a Belgian Lefaucheux Pinfire Revolver or a French copy? Its in relic condition as it was found buried in the ground, remarkably it still cocks and fires. If anybody has more information about this Pinfire Revolver please let me know, my E-Mail is on the home page.
A Pinfire single barreled shotgun, I can't find any markings or dates on this so if anybody has any information on this shotgun please let me know.
The Webley Mk IV .38 Service Revolver in service 1932–1963. Note the war time finish stamped on the side.
Martini-Henry rifle Mk. IV undated but would be around the late 1880s. Made in Birmingham by Midland Gun Co, a lot of these Including this one were past on to shooting clubs at the end of their service and converted to 22 Caliber, this one was then converted again to a 410 shot gun at some point, during one of these conversions it was cut down in length
1916 .303 Short Magazine Lee Enfield (SMLE) No.1 Mk.III*, manufactured by Royal Small Arms at Enfield.
1942 No. 4 Mk I* Rifle. The No. 4 Mk I was first issued in 1939 but not officially adopted until 1941 During the course of the Second World War, the No. 4 rifle was further simplified for mass-production with the creation of the No. 4 Mk I* in 1942, this one was produced by Long Branch Arsenal in Canada.
MK.1 Bren gun dated 1942 made by Enfield RSAF.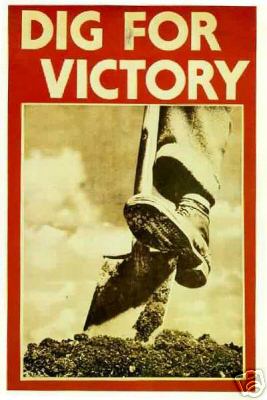 BACK TO MILITARIA UNIFORMS AND FIREARMS.